TOP
2017 Acumen Mountainside Cabernet Sauvignon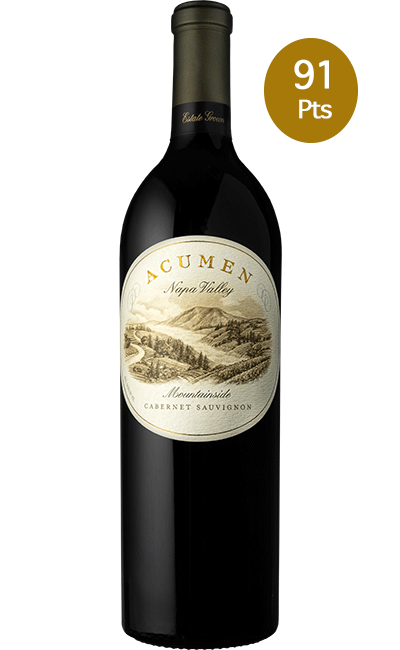 88% Cabernet Sauvignon, 6% Cabernet Franc, 5% Merlot, 1% Malbec, 500 cases produced
Tasting Notes
With a rich garnet color, this full-bodied wine opens with aromas of violets, pomegranate, and freshly toasted oak barrels, with a hint of potpourri and crisp linen. On the palate, we find flavors of fresh cherries, Chambord, caramel, red plums, Earl Grey tea, and Anisette, with well-structured tannins and hints of dark cocoa, marzipan, and French Roast coffee on the long, and mouth-coating finish.
2017 Vintage Notes
The 2017 growing season started out with record precipitation providing vines with sufficient water tables to safely get them through several heat spikes that began as early as June and prior to the berries going through veraison. We usually see natural acidity maintained in our grapes due to our high elevation and as ripening often happens at a steady pace before most hot days occur late in the season.
Aided by naturally thicker skins and also the implementation of shade cloth in certain blocks, the early heat events therefore basically left us unaffected. Patience was however required as vines tend to slow down at higher temperatures extending the berries' phenolic ripening.
While prolonged temperatures of +110°F in early September prompted several winemakers to begin harvesting red varietals our winemaking team held steadfast and patiently waited until the beginning of October before bringing in the first red varietals. Rewarded then with more moderate temperatures, the resulting wines express themselves as both full-bodied, greatly structured, and with ample but supple tannin levels.
Reviews
Wine Review Online
"Another impressive wine from Acumen. It's a blend of fruit from two Atlas Peak sources, Edcora and Attelas vineyards, and it gets the spectrum of mountain character thanks to the elevation differences of the sites. Aromas of rich black fruit and cigar lead to a palate that shows savory earth tones over lively dark fruit. There is a sturdy structure that will benefit from a good decant before serving, and there's an interesting note of bitters in the finish that serves to prop the dark fruit up which the decanter will accentuate. Deftly blended. Contains 6% Cabernet Franc, 5% Merlot and 1% Malbec." 93 Points -Rich Cook, April 2020
Wine & Spirits
"Year's Best US Cabernets & Blends"
"Currant richness alleviates this wine's austerity, filling out the lean, drying tannins with plump fruit. There's an intriguing ancho chile smokiness to the tannins, along with a dried rose scent. Pour it with southwestern dishes, like carne asada. Acumen tends two organically farmed estate vineyards on Atlas Peak, Edcora and Attelas, blending this wine with fruit from both." 91 Points: Exciting, distinctive; a wine that transcends simple typicity to its region or variety; a vivid, singular expression of place -Josh Greene, December 2019
Wine Enthusiast
"Earthy truffle combines effortlessly with rich red fruit in this full-bodied wine, which is blended with small amounts of Cabernet Franc, Merlot and Malbec. Currant, cassis and a tease of orange peel weigh in against grippy tannin and leather." 91 Points: Excellent; highly recommended -Virginie Boone, May 2020
PG Rated
"Ruby-shaded and intense, the Acumen cabernet offers a lush, bold, and full-bodied glass, with blackberry and currant notes and the personality to go with red meat." ★★★ -Peter Gianotti, May 2020
North Bay Voyager
"Cabernet Lovers: It's worth the trip to downtown Napa to taste Acumen's estate cabernet sauvignon."
"On the more accessible side, Acumen's 2017 Mountainside Cabernet Sauvignon is a silky, luscious wine that is rich in blackberries, the essence of pomegranate molasses, and more of that earthiness that Atlas Peak is known for." -Sarah Stierch, August 2019
Fort Bend Focus Magazine
"Great Red Wine Values"
"In the last three months of 2019, I tasted about 200 red wines looking for great values in all price ranges. Most of the wines were good to very good, and I'm sharing my favorites just in time for Valentine's Day. The following wines are outstanding: Eighteen months in 100% French oak. Chocolate covered cherries and sweet tobacco." -Denman Moody, February 2020
Red Wine with Breakfast
"Wine of the Day"
"Fruit grown in the mountains of Napa Valley's volcanic soils makes my heart melt, particularly from Atlas Peak in the southern part of the region. 2017 Acumen Mountainside Cabernet Sauvignon melds ripe red currant and red cherry with earthy, woody herb, leather, and tobacco notes for a rustic, robust expression of somewhat austere fruit. With bold, yet well-integrated tannins, this hearty number will pair with your winter stews and beef-based soups perfectly." -Hayley Hamilton Cogill, February 2020
WARNING: Drinking distilled spirits, beer, coolers, wine and other alcoholic beverages may increase cancer risk, and, during pregnancy, can cause birth defects. For more information go to www.P65Warnings.ca.gov/alcohol.