TOP
2014 Acumen PEAK Edcora Cabernet Sauvignon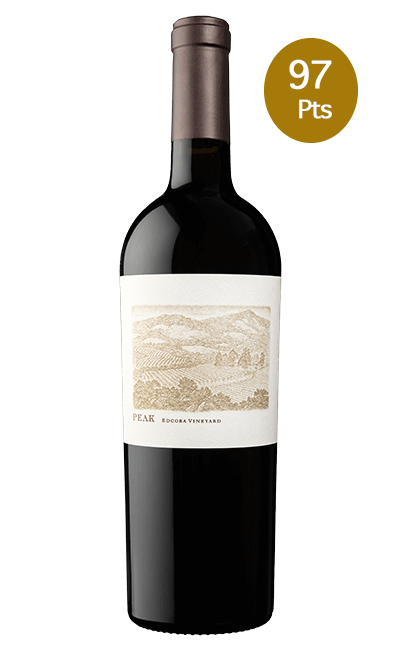 96% Cabernet Sauvignon, 3% Petit Verdot, 1%Cabernet Franc; 99 cases produced.
Tasting Notes
With a warm, southwest exposure and deep red, iron-rich soils, our 84 acre Edcora Vineyard provides a powerful backbone to our Estate. This prominent vineyard expresses itself in opulent mountain flavors framed by a strong, age- worthy structure.
2014 Vintage Notes
The 2014 vintage opens with a bouquet of red flowers, hazelnut coffee, sweet hay, and the eucalyptus trees that dot the hillsides around the Estate. On the palate we find aromas and flavors of Luxardo cherries, mint chocolate, oranges, and mountain blueberries. The firmstructure and mouth-coating tannins display the warm, sun- drenched exposure of the vineyard and combine with arich freshness and aromas of tobacco, saddle leather, and granite that continue to evolve through the long, and well- framed finish.
With all the power and structure found in the 2014PEAK Edcora Vineyard, we feel this vintage will continue to develop and add an elegant bottle bouquet over the next 15 to 20+ years in your cellar.
Reviews
The Tasting Panel
"Acumen, a Napa Valley wine estate on the mountain slopes of Atlas Peak, farms 116 organically certified acres of vines across two vineyards: Attelas and Edcora, ranging in elevation from 1,300- 1,600 feet above sea level. Danish-born director of Winemaking and Executive Manager Henrik Poulsen has worked with some of the world's most renowned winemakers, including Denis Malbec, Jean Hoefliger, and Michael Rolland. This 96% Cabernet Sauvignon offers up a study nose of clean, just-picked mountain blueberries and brush with a leather backdrop. Concentrated flavors of espresso bean, chocolate cedar, blackstrap molasses, and cherry liqueur work together to build a statuesque red with bold tannins." 97 Points -Meridith May, July 2018
Wine Review Online
"The grapes for this Cabernet are from a southwest facing vineyard on Atlas Peak, bringing lively ripe fruit aromas and flavors of cherry, blueberry and fall spice, complemented by a rich dry earth minerality that adds a lot of depth and interest. This is a solidly structured wine that's just beginning to speak. Age it well – 15 years isn't out of the question – or decant long near term. This is a winery to watch! Contains 3% Petit Verdot and 1% Cabernet Franc." 95 Points -Rich Cook, October 2018
Wine & Spirits
"Eric Yuan purchased the Attelas Vineyard in 2012, a 32-acre site planted in 1992 by Jan Krupp. He used that property to found his winery on Atlas Peak, then added Edcora, an 84-acre vineyard 350 feet above Attelas, in 2014. Both sites are certified organic. Garrett Buckland grows the grapes and Henrik Poulsen makes the wines, including this bright, violet-scented cabernet from Edcora. Its purple fruit and petulant mountain-grown tannins will need several years in the bottle to evolve, but there's a tightly structured cabernet lying in wait, as witnessed by the long, earthy finish." 90 Points: Delicious, compelling; a compelling wine of its region; a delicious, finessed expression of place -Josh Greene, December 2018
Wine Enthusiast
"Winemaker Henrik Poulsen worked alongside the late Denis Malbec on this winery project, which is relatively new to the appellation. Deep brambly berry aromas rise from the glass in this elegant effort, blended with tiny additions of Petit Verdot and Cabernet Franc. Brown-sugar flavors accent a velvety rich and smooth texture, the tannins tamed and softened." 90 Points: Excellent; highly recommended -Virginie Boone, December 2018
Vinography
"I'm pleased to bring you the latest installment of Vinography Unboxed, where I highlight some of the better bottles that have crossed my doorstep recently. This week included a lot of really great stuff, including some superstars. Speaking of restrained, I've got a couple of stunning Cabernets from the higher elevations of Napa to recommend. These two wines from Acumen vineyards are wonderful – clocking in at close to 14% alcohol with great acidity, great balance, and remarkably well integrated oak. Totally delicious and worth finding if you can handle the tariff.
2014 Acumen PEAK Edcora Vineyard Cabernet Sauvignon
Dark garnet in color, this wine smells of cherry, cassis and a touch of gunpowder green tea. In the mouth, beautiful flavors of cherry and cocoa powder and boysenberry are wrapped in a fleecy blanket of fine grained tannins. Very little trace of wood in this wine, save for the tannins which are sculpted and very supple. Excellent acidity and great length, and almost no trace of the 85% new oak." 9.5 out of 10 Points -Alder Yarrow, November 2018
Robb Report
"Acumen Napa Valley Has Wine That Lights Up Atlas Peak A world-class wine estate matures in Napa." "There's delicious irony in the fact that some of Napa Valley's most exciting wines come from high in the mountains flanking the valley proper—the Mayacamas on the west side (Mount Veeder, Spring Mountain), the Vacas on the east (Howell Mountain). Yet as these AVAs have drawn knowing fans and praise for the muscled structure of their wines, one mountain appellation has remained somewhat quieter and a little less visible: Atlas Peak. That may well be because it is less visible, requiring perseverance along circuitous routes to reach. And possibly, too, because its most famous vineyard—Stagecoach—straddles the AVA line, occupying Pritchard Hill, as well.
Sometimes it takes a new eye—an outsider's quest for a place with grand cru potential—to shine a new light on a region that's been hiding in plain sight with remarkable wine-growing characteristics all along. Follow behind on that quest, and some awfully good wine is the proverbial pot of gold. The newest spotlight on Atlas Peak comes from Acumen Napa Valley, launched in 2012 by Eric Yuan and an impressive team, headed by now-late (and sorely missed) Denis Malbec; acclaimed winemaker Henrik Poulsen, who worked with Malbec and carries on the vision; and well-known viticulturist Garrett Buckland (currently president of the Napa Valley Grapegrowers). In describing the region's potential for Bordeaux varieties, Poulsen has high praise: 'With its high elevation, relatively cool climate, and volcanic soils, it is a place where the grapes can ripen perfectly while retaining complex structure and tannins. We believe that Atlas Peak is Napa Valley's next frontier for mountain-grown wines.'
Fun fact: In California, only three percent of wine grapes are grown at altitudes above 1,000 feet. Acumen's two estate vineyards (Attelas and Edcora) range from 1,300 to 1,600 feet, where temperatures during the growing season hover about 10 degrees below those on the valley floor. Add in hefty diurnal swings—as much as 50 degrees—and the fruit retains great natural acidity and earthy minerality (the rocky volcanic soils have something to say about that). The style of Cabernet the team is shooting for might be a throwback to the '60s or '70s, with freshness, precision, and structure that promise longevity.
The 2014 Acumen PEAK Edcora Vineyard Cabernet Sauvignon Atlas Peak is fresh and flinty on the nose, with tobacco and floral overtones leading into bright blackberry, cassis, and dark cherry flavors wrapped in supple tannins." -Sara Schneider, August 2018
Wine Review Online
"So much excitement exists around Pinot Noir in California now, it can seem that Cabernet Sauvignon is becoming an also-ran. Of course, Cabernet is California's most celebrated red wine, and in Napa Valley – California's most celebrated wine region – it leads in volume of production, crop value, and reputation. But is there anything new and exciting about old, reliable Cabernet?
Meet Acumen, a wine estate in the Atlas Peak district of Napa Valley, that originated just six years ago. Proprietor Eric Yuan has amassed 116 organically-certified acres of vines spread across two sites in a remote, cool locale of steep slopes, high elevation and rocky, volcanic soils. From these estate vines, Acumen produces several red wines based on Cabernet Sauvignon that are masterful expressions of this noble grape.
Henrik Poulsen, Director of Winemaking at Acumen, believes that Atlas Peak is 'Napa Valley's next frontier for great mountain-grown wines.' (Acumen's founding winemaker was the late Denis Malbec, with whom Poulsen worked since 2013.) Atlas Peak is situated in the eastern mountains of Napa Valley and enjoys temperatures that are typically five to ten degrees cooler than the valley floor. The area also experiences day-night temperature fluctuations of as much as 50 degrees. These two factors slow grape ripening, prevent dehydration and sun damage to the berries and enable grape flavors to develop fully without excess ripening. In fact, one characteristic of the Acumen wines that impresses me is the freshness of their fruit flavors.
Acumen's two vineyards are the Attelas estate of 32 acres situated at 1,300 feet, originally planted in 1992 and formerly the home vineyard of the legendary winegrower, Dr. Jan Krupp; and Edcora, an estate of 84 acres situated 350 feet higher up the mountain, which was purchased in 2014. With southwestern exposure compared to Attelas's northeast exposure, Edcora is about ten to 15 percent warmer than Attelas.
The two other 2014 Cabs in the PEAK line are Attelas and Edcora, each exclusively from the named site. They are both amazing wines, the Attelas expressing a cooler-site style with finesse and depth, and a strongly mineral note; and the Edcora richer, rounder, more ample and fruitier, a wondrous expression of Cabernet Sauvignon. Of the two, the classicist in me prefers Attelas." -Mary Ewing-Mulligan, August 2018
Wine Specs
Varietal
Cabernet Sauvignon
Wine Specs
Varietal
Cabernet Sauvignon
WARNING: Drinking distilled spirits, beer, coolers, wine and other alcoholic beverages may increase cancer risk, and, during pregnancy, can cause birth defects. For more information go to www.P65Warnings.ca.gov/alcohol.