TOP
2014 Acumen Mountainside Cabernet Sauvignon 1.5L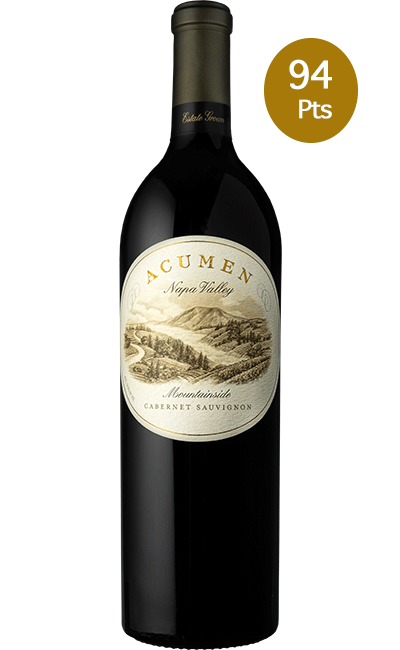 78% Cabernet Sauvignon; 5% Cabernet Franc; 4% Petit Verdot; 6% Malbec; 7% Merlot; 3000 cases produced
Tasting Notes
With a rich garnet color, this full-bodied wine opens with aromas of violets, pomegranate, and freshly toasted oak barrels, with a hint of potpourri and crisp linen. On the palate we find flavors of fresh cherries, Chambord, caramel, red plums, Earl Grey tea, and Anisette, with well-structured tannins and hints of dark cocoa, marzipan, and French Roast coffee on the long, and mouth-coating finish.
2014 Vintage Notes
Remembered locally in Napa Valley as "The Year of the Quake", rains in late February and early March of 2014 gave vines a much-needed drink as they were emerging from dormancy and about to begin bud-break. A warm and gentle spring allowed for water conservation as no sprinklers were needed for frost protection during bud break. Smooth growing conditions allowed for ideal flower, fruit set, vine growth, and veraison, with harvest coming in about 2 weeks earlier than average. This produced nice crop loads and good, even ripeness coupled with excellent concentration and structure. We feel that 2014 represents one of the best vintages of the decade, even better than the highly-lauded 2013s.
Reviews
The Tasting Panel
2014 Mountainside Cabernet Sauvignon "Peak of Perfection Acumen's Henrik Poulsen is 'palate on' when it comes to crafting his estate wines" "On the mountain slopes of the coveted area known as Atlas Peak, Napa Valley's high-elevation AVA, winemaker Henrik Poulsen is crafting estate wines for the Acumen label. With 116 organically farmed acres of vines spread across two remote, rocky-soiled vineyards—Edcora and Attelas—this small but resonant winery is destined for world-class status.
Poulsen, who worked alongside the late Denis Malbec to establish the wine's style, has a handle on the terroir above and beyond its mountainous location, where elevations reach more than 1,200 feet above sea level. With a relatively cool climate and volcanic soils, the ripening potential remains great; the wines' complex nature is apparent and their character defines excellence.
Acumen's expressions of its mountain terroir include the small-production PEAK wines, produced from the best vineyard blocks and destined for long-term aging. For a broader appeal, Acumen's Mountainside wines offer a higher production and, with the exception of the Sauvignon Blanc, are also 100 percent estate-driven. Acumen Mountainside wines are fairly priced and work for upscale by-the-glass programs.
2014 Acumen Mountainside Cabernet Sauvignon is aged in 100% French oak for 18 months. Poulsen notes this as one of the best vintages of the decade in Napa Valley. 'This wine demonstrates the terroir of the estate,' he says. The aromas are meaty: Filet mignon comes to mind, but there are also floral threads with hints of dried violets. As the tannins paint the tongue, acidity divides it, adding finesse to flavors of dark chocolate, espresso beans, and inky black fruit. 'We coax the estate for what it has to offer,' Poulsen adds." 94 Points -Meridith May, October 2018
Wine Review Online
"Textbook violet aromas burst from this glass, accompanied by dark fruits – plum, black cherry and blackberry. Rustic tannins hold everything tightly together, with notes of chocolate and Bergamont coming forward in the finish. Another complex bottling from winemaker Henrik Poulsen. Go for a bold meat dish here – lamb or prime rib of beef." 93 Points -Rich Cook, October 2018
South Florida Reporter
2014 Acumen Mountainside Cabernet Sauvignon "This Napa producer makes a series of stunning, colossal cabernet sauvignons from vineyards on Atlas Peak. Founded by Eric Yuan only a couple of years ago, Acumen is showing great potential with mountain-grown grapes." -Tom Marquardt and Patrick Darr, June 2018
Wine Review Online
"So much excitement exists around Pinot Noir in California now, it can seem that Cabernet Sauvignon is becoming an also-ran. Of course, Cabernet is California's most celebrated red wine, and in Napa Valley – California's most celebrated wine region – it leads in volume of production, crop value, and reputation. But is there anything new and exciting about old, reliable Cabernet?
Meet Acumen, a wine estate in the Atlas Peak district of Napa Valley, that originated just six years ago. Proprietor Eric Yuan has amassed 116 organically-certified acres of vines spread across two sites in a remote, cool locale of steep slopes, high elevation and rocky, volcanic soils. From these estate vines, Acumen produces several red wines based on Cabernet Sauvignon that are masterful expressions of this noble grape.
Henrik Poulsen, Director of Winemaking at Acumen, believes that Atlas Peak is 'Napa Valley's next frontier for great mountain-grown wines.' (Acumen's founding winemaker was the late Denis Malbec, with whom Poulsen worked since 2013.) Atlas Peak is situated in the eastern mountains of Napa Valley and enjoys temperatures that are typically five to ten degrees cooler than the valley floor. The area also experiences day-night temperature fluctuations of as much as 50 degrees. These two factors slow grape ripening, prevent dehydration and sun damage to the berries and enable grape flavors to develop fully without excess ripening. In fact, one characteristic of the Acumen wines that impresses me is the freshness of their fruit flavors.
Acumen's two vineyards are the Attelas estate of 32 acres situated at 1,300 feet, originally planted in 1992 and formerly the home vineyard of the legendary winegrower, Dr. Jan Krupp; and Edcora, an estate of 84 acres situated 350 feet higher up the mountain, which was purchased in 2014. With southwestern exposure compared to Attelas's northeast exposure, Edcora is about ten to 15 percent warmer than Attelas.
Acumen's 2014 Mountainside Cabernet Sauvignon is 78 percent Cabernet Sauvignon with 7 percent Merlot, 6 percent Malbec, 5 percent Cabernet Franc and 4 percent Petit Verdot. To my taste, it is a classically-styled Cab, with a lean structure of firm tannin and fresh acidity, and a pure expression of concentrated, fresh Cabernet flavors. Its aroma suggests red fruits (cherry, currants, pomegranate, plum) with spicy, toasty notes of oak; its flavors also include cocoa, charry notes, tea, chocolate, coffee and a marked earthy minerality. Although I describe the structure as lean, the wine has soft, velvety texture surrounding its firm backbone, and its tannins are well integrated with its fruit, even at this young stage." 91 Points -Mary Ewing-Mulligan, August 2018
Wine Specs
Varietal
Cabernet Sauvignon
Wine Specs
Varietal
Cabernet Sauvignon
WARNING: Drinking distilled spirits, beer, coolers, wine and other alcoholic beverages may increase cancer risk, and, during pregnancy, can cause birth defects. For more information go to www.P65Warnings.ca.gov/alcohol.