TOP
2014 Acumen PEAK Cabernet Sauvignon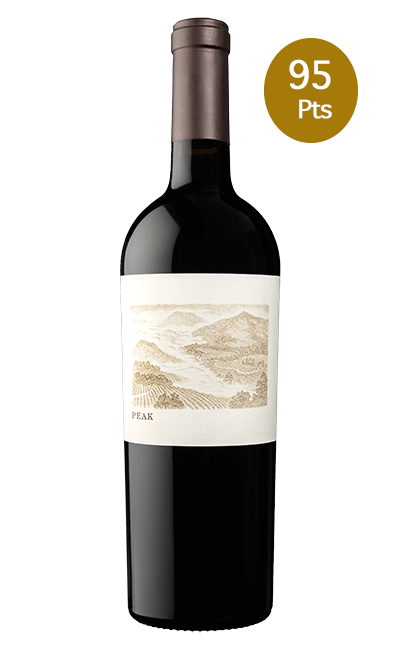 97% Cabernet Sauvignon, 1% Cabernet Franc,1% Malbec, 1% Petit Verdot; 567 cases produced.
Tasting Notes
With every vintage our goal is to craft the finest wine that expresses the true heart of our 116 acre, organically farmed Estate on Atlas Peak. Our PEAK Cabernet Sauvignon is a selection of the very best blocks, barrel lots, and varietals from our two mountain vineyards, marrying the grace of Attelas and the power of Edcora. For optimal quality each vineyard block is picked and fermented separately in small tanks, then aged over 22 months in 85% new French Oak barrels. During this time our wine-making team tastes regularly, selecting unique and expressive components for the final blend.
2014 Vintage Notes
For the 2014 vintage there are aromas and fruit flavors of the wild fennel, black cherries, and fresh mountain blueberries that grow on the hillsides. The rugged landscape of our vineyards is reflected in the savory flavors of sweet earth, flint, and the native chaparral. The concentration, deep complexity and inherently powerful structure of the PEAK wines reflect our unique growing conditions at high elevation, with longer growing days at slightly cooler temperatures. The extremely long and pure finish shows hints of Tahitian vanilla, black licorice, and rich drinking chocolate.
Reviews
Wine Review Online
"Atlas Peak's famed rustic tannin structure is on full display here, so give this a good rest in the cellar to bring its powerful mix of fruit and oak spice to the foreground. Blackberry, allspice, tobacco and mild dried herbs are tightly wound at present, but the promise of a tasty future lays within. It's nice to see a return to winemaking that makes for an unfolding of beauty later on down the road. Contains 1% Cabernet Franc, 1% Malbec and 1% Petit Verdot." 95 Points -Rich Cook, October 2018
Wine Review Online
"So much excitement exists around Pinot Noir in California now, it can seem that Cabernet Sauvignon is becoming an also-ran. Of course, Cabernet is California's most celebrated red wine, and in Napa Valley – California's most celebrated wine region – it leads in volume of production, crop value, and reputation. But is there anything new and exciting about old, reliable Cabernet?
Meet Acumen, a wine estate in the Atlas Peak district of Napa Valley, that originated just six years ago. Proprietor Eric Yuan has amassed 116 organically-certified acres of vines spread across two sites in a remote, cool locale of steep slopes, high elevation and rocky, volcanic soils. From these estate vines, Acumen produces several red wines based on Cabernet Sauvignon that are masterful expressions of this noble grape.
Henrik Poulsen, Director of Winemaking at Acumen, believes that Atlas Peak is 'Napa Valley's next frontier for great mountain-grown wines.' (Acumen's founding winemaker was the late Denis Malbec, with whom Poulsen worked since 2013.) Atlas Peak is situated in the eastern mountains of Napa Valley and enjoys temperatures that are typically five to ten degrees cooler than the valley floor. The area also experiences day-night temperature fluctuations of as much as 50 degrees. These two factors slow grape ripening, prevent dehydration and sun damage to the berries and enable grape flavors to develop fully without excess ripening. In fact, one characteristic of the Acumen wines that impresses me is the freshness of their fruit flavors.
Acumen's two vineyards are the Attelas estate of 32 acres situated at 1,300 feet, originally planted in 1992 and formerly the home vineyard of the legendary winegrower, Dr. Jan Krupp; and Edcora, an estate of 84 acres situated 350 feet higher up the mountain, which was purchased in 2014. With southwestern exposure compared to Attelas's northeast exposure, Edcora is about ten to 15 percent warmer than Attelas.
The 2014 PEAK Cabernet Sauvignon is 97 percent Cabernet Sauvignon with 1 percent each of Cabernet Franc, Malbec and Petit Verdot. A barrel selection from both the Attelas and Edcora estates, it is a fuller, richer wine than the Mountainside Cabernet. Its aroma suggests blue and black fruits (blueberry, blackberry, black cherry) with gentle fresh-herb notes and oak-driven sweet spices. The wine's taste is as much about its texture, weight and mouthfeel as it is about its flavors.
(Chocolate, cocoa, coffee, black licorice and pencil shavings emerge in the mouth.) The wine's attack is soft and velvety, leading to an impression of full body and dense texture. But this is not a super- ripe, near-sweet Cabernet: it is truly dry, and its fruit flavors are fresh rather than baked. The wine's tannins are soft, and very much present, but they are in proportion to the fruit. While the Mountainside aged for 19 months in 72 percent new French oak, the PEAK aged 22 months in 85 percent new French oak." 92 Points -Mary Ewing-Mulligan, August 2018
Wine Enthusiast
"This estate-grown wine is brawny in leather, earth and cedar, with powerfully concentrated flavors of red currant and black cherry. Substantial in style, it resolves on the midpalate to show touches of acid-tinged grace and restraint. Its finish is sticky in dark chocolate." 90 Points: Excellent; highly recommended -Virginie Boone, December 2018
Vinography
"I'm pleased to bring you the latest installment of Vinography Unboxed, where I highlight some of the better bottles that have crossed my doorstep recently. This week included a lot of really great stuff, including some superstars. I've got a couple of stunning Cabernets from the higher elevations of Napa to recommend. These two wines from Acumen vineyards are wonderful – clocking in at close to 14% alcohol with great acidity, great balance, and remarkably well integrated oak. Totally delicious and worth finding if you can handle the tariff.
2014 Acumen PEAK Cabernet Sauvignon
Dark garnet in color, this wine smells of black cherry and cassis. In the mouth, gorgeously juicy flavors of cherry and chocolate mix with a touch of dried herbs. Very fine grained tannins wrap the whole package up with remarkably well integrated and subtle oak treatment – you'd never guess this was 85% new oak. Excellent acidity and a remarkably restrained 14.1% alcohol. Outstanding." 9.5 out of 10 Points -Alder Yarrow, November 2018
Houston Lifestyles & Homes
"First of this producer — ACUMEN — that I have had the pleasure to taste. About as good as Napa Cabernet gets!" -Denman Moody, August 2018
Wine Specs
Varietal
Cabernet Sauvignon
Wine Specs
Varietal
Cabernet Sauvignon
WARNING: Drinking distilled spirits, beer, coolers, wine and other alcoholic beverages may increase cancer risk, and, during pregnancy, can cause birth defects. For more information go to www.P65Warnings.ca.gov/alcohol.