TOP
2015 Acumen Mountainside Cabernet Sauvignon 1.5L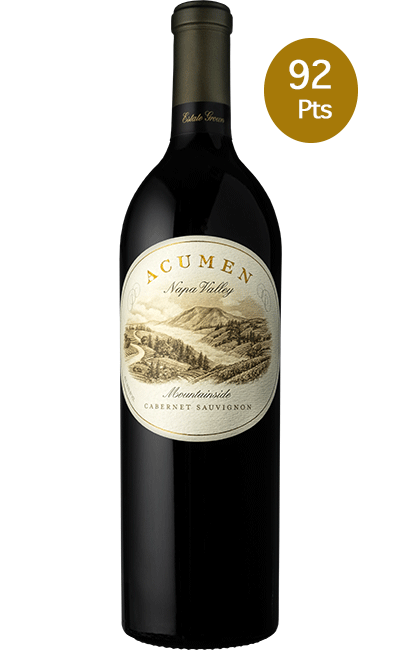 76% Cabernet Sauvignon, 8% Cabernet Franc, 7% Merlot, 5% Malbec, 4% Petit Verdot; 1000 cases produced
Tasting Notes
With a rich garnet color, this full-bodied wine opens with aromas of violets, Bing cherry, cranberry sauce, and chaparral, with a hint of dried rose petals and crisp linen. On the palate we find flavors of Luxardo cherries, Carpano vermouth, dark chocolate covered strawberries, red plums, and mint tea, with fine grained tannins and hints of freshly turned earth and mahogany on the long and persistent finish.

2015 Vintage Notes
The year started with warm temperatures in winter and early spring that resulted in early bud-break and bloom. Colder temperatures in May produced some shatter that resulted in a much smaller crop than normal. The growing season was accelerated for many on the Valley floor, but with our elevation and cooler temperatures, we started a little closer to normal. The 2015 vintage gave us small, open clusters of excellent quality.
Reviews
Forbes
"Acumen - A New Shining Star From Napa Valley"
"Recently I have tasted the releases of a relatively new Napa Valley winery that I believe will become, if not a household name, at least a name worth remembering. The winery is Acumen.
There are several examples of Cabernet Sauvignon produced at Acumen. The Mountainside offering, a rich, elegantly styled wine, is made from younger vines…the Mountainside Cabernet Sauvignon is more approachable and can be enjoyed at an earlier age…It's this restrained manner of Cabernet Sauvignon that renders the Acumen wines as being so special. This signature style will certainly help in terms of identity, but apart from that, the Acumen Cabernets are much more enjoyable upon release that many counterpart wines from Napa Valley. I've tasted only a few wines from Acumen, but let me repeat, this is an estate worth remembering. Keep an eye out for these wines.
2015 Acumen Mountainside Cabernet Sauvignon – Excellent Bright, ruby red/crimson; aromas of rose petals, maraschino cherry and dill. Medium-full with very good concentration. Lovely ripeness, good acidity, nicely managed tannins, very good persistence. Well made, this has a nice subdued nature."-Tom Hyland, September 2019
Wine & Spirits
"Year's Best US Cabernets & Blends"
"A clean, violet-scented cabernet, this has a grapey richness, even as the structure holds it tight. The meaty tannins last with healthy, floral flavor detail. You could decant this now, to enjoy with roast quail or duck; or you could cellar it a year or two and allow it to open further." 92 Points: Delicious, compelling; a compelling wine of its region; a delicious, finessed expression of place. -Josh Greene, December 2019
Wine Review Online
"Another fine vintage of this bottling, with spot on varietal character on the nose and in the mouth, and a gentle mountain rusticity of texture helping to deepen the flavors and extend the finish. This was great alongside a New York strip in a peppercorn sauce. Highly recommended!" 92 Points -Rich Cook, April 2019
Restaurant Wine
"Most high quality 2015 Cabernet Sauvignons may not have quite the opulence of the 2014s, but they generally display more finesse and structure. Among those we are especially keen on include... the outstanding Edcora bottling from Acumen.
Acumen is an Atlas Peak Cabernet specialist, founded in 2012. The winery owns 116 acres of certified organically farmed grapes in two vineyards: Attelas (32 acres) and Edcora (84 acres); the latter is situated 350 feet higher that Attelas, in a lightly warmer site. The wines are intensely flavored, and structured, capable of long-term aging."
2015 Acumen Mountainside Cabernet Sauvignon
"A full bodied Cabernet that is fairly rich, with firm structure, good balance, and a lightly tannic finish, tasting of black currant, cherry, plum, black tea, herb, and spicy oak…" 4 stars out of 5: Excellent quality for its type, style, and price. Among the very best of its type for its price. Highly recommended -Ronn Wiegand, January 2019
Vinography
"I'm pleased to bring you the latest installment of Vinography Unboxed, where I highlight some of the better bottles that have crossed my doorstep recently. This week included a bunch of fun wines from near and far. Finally, I've got a couple more wines from Atlas Peak superstar Acumen wines – their flagship 'PEAK' bottling, and their less expensive 'Mountainside' bottling. Both utterly delicious, slightly lower alcohol Cabernets made with finesse and restraint. Go get 'em!
2015 Acumen Mountainside Cabernet Sauvignon
Dark garnet in color, this wine smells of sweet cherry and vanilla. In the mouth, bright and juicy cherry flavors have fantastic energy thanks to excellent acidity. Muscular, powdery tannins coat the mouth, as the pure fruit soars across the palate." Between 9 and 9.5 Points out of 10 -Alder Yarrow, March 2019
The Press Democrat
"Pairings: Wine of the week, 2015 Acumen Napa Valley Mountainside Cabernet Sauvignon, complements beef tenderloin"
"Our Wine of the Week, 2015 Acumen Napa Valley Mountainside Cabernet Sauvignon, is suave, elegant and a bit bold. It is a regal wine, with appealingly generous fruit. It is not a fruit bomb, though; it is beautifully integrated and well balanced. Flavor are deep and sultry, with flashes of blackberry, black cherry, black raspberry and black plum, a quality that lends a tad of juiciness to the wine. You'll notice a bit of black pepper, too, and a suggestion of the floor of a redwood forest after a good rain. It is a stellar example of what Napa Valley does best.The wine is lovely with the sort of comfort food we want at this time of year. A wine of this price warrants, I think, a special meal." -Diane Peterson, December 2018
South Florida Reporter
"Wines For Valentine's Day"
"Here are some very nice cabernet sauvignons we recommend for a dinner at home: Denis Malbec joined Henrik Poulsen in making some great wines from mountain-grown grapes on Atlas Peak, but sadly the 2015 are his last. Malbec died in 2016. Acumen's stellar portfolio of premium red wines reveals the greatness that comes from mountainside grapes. Acumen makes a 2015 Mountainside Cabernet Sauvignon that uses less new oak and more merlot and malbec for a delicious and more approachable blend." -Tom Marquardt and Patrick Darr, February 2019
The Press Democrat
"Wine of the week: 2015 Acumen Mountainside Cabernet Sauvignon"
"Winemakers have a lot of tools at their disposal –– sorting tables, fermentation tanks and refractometers to gauge the sugar in grapes. But the single most important tool they have is one that doesn't run on batteries –– it runs on instinct. [Henrik] Poulsen is behind our wine of the week winner –– the Acumen, 2015 Mountainside Cabernet Sauvignon. This cab is striking with generous fruit — black cherry, blackberry, cassis and a streak of black raspberry. It has firm tannins and great bones — structure. The Acumen is also briary and layered with savory notes, with a hint of forest floor. This mountain-grown cab is a beauty. The cabernet's grapes are groomed at an altitude of 1,300 to 1,600 feet in the winery's estate vineyards, 116 acres atop Atlas Peak in Napa Valley." -Peg Melnik, December 2018
Wine Specs
Varietal
Cabernet Sauvignon
Wine Specs
Varietal
Cabernet Sauvignon
WARNING: Drinking distilled spirits, beer, coolers, wine and other alcoholic beverages may increase cancer risk, and, during pregnancy, can cause birth defects. For more information go to www.P65Warnings.ca.gov/alcohol.