TOP
2018 PEAK Sauvignon Blanc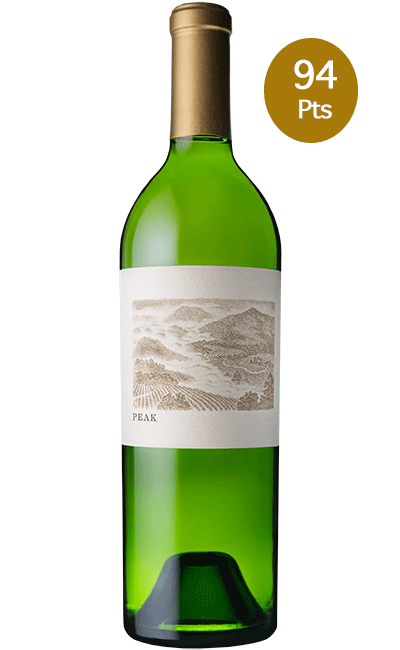 100% Sauvignon Blanc
Tasting Notes
This powerful and impeccably structured mountain-grown Sauvignon Blanc displays beautiful aromas of ripe lemon, pineapple, and Kaffir lime, with sophisticated hints of basil leaf, fresh sage, and wet stone minerality. On the palate, it is lush and richly textured, with finely tuned acidity and mouth-filling flavors of citrus and spice, as well as hints of cardamom and clove from aging in 33% new French oak.
Vintage Notes
The 2018 growing season began with abundant winter rains that replenished the soils, followed by ideal temperate weather throughout spring and summer. With cooler-than-normal temperatures through September and no significant heat events, the grapes could ripen gradually and develop perfect physiological ripeness, complex flavors, and a favorable balance between sugar and natural acidity.
Reviews
Robb Report
"The 11 Best New Sauvignon Blancs of 2020"
"California producers are increasingly turning out quality Sauvignon Blancs that are luscious now but will taste even better with age. Recently, though, West Coast producers, especially in Napa and Sonoma, have been giving Sauvignon Blanc, in both the vineyard and the cellar, the degree of attention that it takes to make a head-turning wine. These nuanced and age-worthy wines are being dubbed 'Super Sauvignons,' and getting snapped up by collectors looking to round out their cellars. Here are 11 new ones that will make you pour out whatever other white wines you were drinking before.
2018 Acumen PEAK Sauvignon Blanc: A burst of citrus aromas opens on this mountain SB from Acumen, with exotic yuzu and lemongrass wrapping around the variety's familiar white blossoms. Bright green melon joins grapefruit and lime flavors with a delicate balance of oyster-shell minerality and satisfying, mouth-filling weight." -Sara Schneider, June 2020
The Tasting Panel
"From the Attelas Vineyard, which sits at an elevation of more than 1,200 feet, this mineral-driven white—aged in stainless steel and French oak—sparks attention on the nose and palate. Its flavors and aromatics continue to develop as it opens up: Salted apricot, pear, and pineapple pave the way for a squeeze of pink grapefruit. With a wash of pear nectar, the mid-palate changes gear from lean to rich and creamy. Spiced jasmine lingers through the bright finish." 94 Points: Outstanding -Meridith May, March 2020
JamesSuckling.com
"Very attractive and intense aromas of limes and white peaches with grassy and fresh-herb notes, too. The palate has a succulent feel with good concentration and a gently creamy, lemon-curd finish. Complex and delicious. Drink now." 93 Points: Outstanding -James Suckling, February 2020
Wine Spectator
"A Golden Age for Sauvignon Blanc Experimentation in the vineyard and cellar is pushing quality forward in California"
"Sauvignon Blanc is undergoing a transformation in the Golden State, and the effects are thrilling to observe. The variety has become one of the most exciting white wines in California, delivering expressive, food-friendly versions that have winemakers and wine drinkers taking note. Over the past few years I've reported on various aspects of Sauvignon Blanc's quality uptick, such as the seriousness with which the variety is being farmed and the new winemaking techniques being employed; the increase of single-vineyard and block-specific bottlings; and the range of styles on offer. Now I'm noticing two other trends: a push to experiment with multiple bottlings to show off different expressions; and a greater focus on age-ability. MaryAnn Worobiec's Recommended California Sauvignon Blancs 2018 Acumen PEAK Sauvignon Blanc Aromatic flavors lend nuance to a core of peach, mango and coconut water. The supple frame and detailed finish add to the charm." 92 Points: Outstanding; a wine of superior character and style -MaryAnn Worobiec, May 2020
Wine Advocate
"The 2018 Sauvignon Blanc Peak features intense notes of lime cordial, lemonade, and hemp with hints of dried herbs, crushed rocks, and straw. Medium-bodied, the palate delivers loads of tangy citrus fruit with a lovely minerally edge and great tension, finishing on a long-lingering herbal note." 91 Points: An outstanding wine of exceptional complexity and character. In short, these are terrific wines -Lisa Perrotti-Brown, November 2019
Wine Enthusiast
"A selection of the best lots and barrels of the vintage, this white shines in lemon zest, wet stone, and melon. Exotic and weighty in creamy oak, it offers complexity and full-bodied intensity, with enough acidity to remain fresh on the finish." 91 Points: Excellent; highly recommended -Virginie Boone, May 2020
Capital Gazette
"Wine, etc: Hot Weather is the Perfect Time for These Sauvignon Blancs" 2018 Acumen PEAK Sauvignon Blanc
"Using the best barrels and lots of the Attelas Vineyard, Acumen has put complexity and sophistication into its 'super sauvignon.' Good texture from lees stirring and a kiss of oak." -Tom Marquardt and Patrick Darr, July 2020
Grape Collective
"John took a sip and slapped his own face. No, seriously. Dottie would have happily done it for him, but it was so intense and exploded with so much flavor that he slapped his face. What a wine! Our notes: 'Rich acidic nose. Beautifully made, with the body of a good Chardonnay and plenty of lime peel. Extremely clean, but with the body. It's like a meal, with some Chardonnay-like oiliness. With time, the tropical fruits go up and the acidity goes down. With more time, it becomes flowery and rich and regains that mesmerizing acidity. Could definitely age and was bottled with one of the longest corks we've ever seen. Quite the experience.'" -Dorothy Gaiter and John Brecher, January 2020
Red Wine with Breakfast
"Wine of the Day"
"Vibrant, crisp, and clean, showcasing dried herbs, crushed stone, ripe lemon, orange blossom, golden grapefruit, and jasmine flowers, Acumen PEAK Sauvignon Blanc from premium fruit grown in Napa Valley, isn't your typical version of the variety. Filled with structure and concentration, the layered wine exudes lean elegance. Pair with shellfish, roasted chicken, smoked fish, or simply dress up your next salad night with this stellar wine." -Hayley Hamilton Cogill, February 2020
The Colorado Springs Gazette
"Sauvignon Blanc provides refreshing drinking"
"In recent years, an elite of wines with exceptional character has emerged to where author Karen MacNeil coined the term 'Super Sauvignons.' These wines benefit from use of several types of vessels – new and used oak, concrete tanks, stainless steel barrels, and amphorae – for fermentation, along with practices such as lees stirring to build complexity and texture. The wines below share a complex profile of bright, ripe fruit, mineral and savory notes, and rich textures. Notably, each winery below is from the Napa Valley. 2018 Acumen PEAK Sauvignon Blanc, high- altitude vineyard, oak, and stainless aging, lees stirring; intense, spicy, supple yet stimulating." -Rich Mauro, October 2020
WARNING: Drinking distilled spirits, beer, coolers, wine and other alcoholic beverages may increase cancer risk, and, during pregnancy, can cause birth defects. For more information go to www.P65Warnings.ca.gov/alcohol.