TOP
2019 Acumen Mountainside Sauvignon Blanc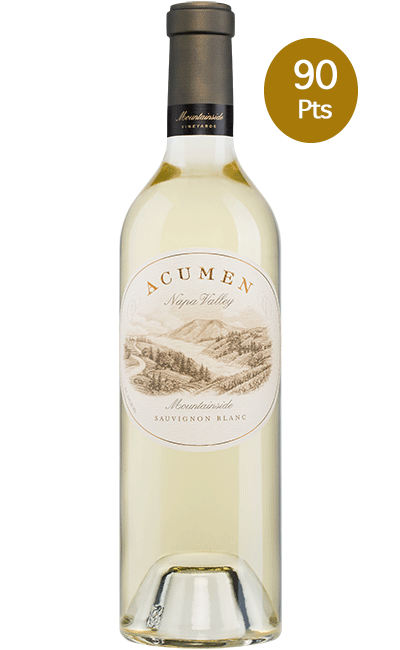 Tasting Notes
This lovely pale and golden straw-colored Sauvignon Blanc begins with a bouquet of citrus blossoms, fresh tangerines, Bosc pear, and jasmine. On the palate, this medium-bodied wine continues with flavors of ripe white grapefruits, mandarin oranges, and caramelized Meyer lemon cream along with notes of pineapple rind, lemon verbena, and wet slate. Clean acidity and pleasant texture frame the long and pure finish of this enjoyable and refreshing wine.
2019 Vintage Notes
2019 was quite similar to the "Winemaker's Dream Vintage" of 2018. The growing season had cooler than average temperatures throughout spring/summer. With saturated grounds in winter rains, vines coming out of dormancy had plenty of water supply for healthy bud-breaks, which with the exception of a slightly delayed Sauvignon Blanc, occurred on time in late March/early April. Temperatures in May through August continued to be cooler than usual. This and the absence of any heat events during berry formation, resulted in another consistent vintage 9om the Dry Creek area resulting in bright citrus flavors balanced with natural acidity in the Sauvignon Blanc fruit.
Reviews
Wine Review Online
"This is a Sauvignon Blanc with some richness and weight thanks to some neutral barrel time, which here serves to round off the acidity a bit and allow the tropical side of the aroma and flavor spectrum to be expressed. Pear, pineapple, soft grapefruit and faint lemongrass mix well together and finish with full integration. Try it where you might want a lighter side Chardonnay for a change of pace." 90 Points -Rich Cook, August 2020
The Press Democrat
"Wine of the Week"
"This gorgeous sauvignon blanc is complex with layered flavors of grapefruit, pear, and tangerine. It has a hint of Meyer lemon in the mix. It's crisp and clean with a supple texture and citrusy finish. Striking." 4.5 Stars: Highly recommended -Peg Melnik, August 2020
The Press Democrat
"This Week's Blind Tasting: Sauvignon Blancs" "Tasty Alternatives"
"An edgy sauvignon blanc with tangy fruit and racy acidity. Notes of pineapple, tangerine, and grapefruit. Just a hint grassy. Finishes crisp. Well crafted." ★★★★: Highly recommended -Peg Melnik, June 2020
Red Wine with Breakfast
"What To Drink Now: Sensational Sauvignon Blanc"
"From every corner of the world, Sauvignon Blanc sings of summer, revealing everything from flinty crushed stone and lemon blossom, to ripe grapefruit and gooseberry, to soft herbs and freshly cut grass. It is a variety that captures the character of the terroir, wrapped with a refreshing, satisfying bow. High atop Napa's Atlas Peak, Acumen crafts distinct Cabernet Sauvignon and Sauvignon Blanc from certified organic and sustainably farmed vines with a mineral core thanks to the volcanic soils of the mountain. Sitting above the fog line, sunshine can ripen fruit without experiencing excessive temperatures, ensuring that wines have structure and complexity, leaning towards an Old World style I love. 2019 Acumen Mountainside Sauvignon Blanc ages for eight months in French oak and stainless steel barrels on the lees, enhancing the texture of the fruit, delivering fresh, floral aromas of jasmine, wisteria, and Meyer Lemon blossom with chalky, crushed stone earthiness." -Hayley Hamilton Cogill, August 2020
Vinography
"Hello, and welcome to my periodic dig through the samples pile. I'm pleased to bring you the latest installment of Vinography Unboxed, where I highlight some of the better bottles that have crossed my doorstep recently. I've reviewed the wines of Acumen previously, but their newest Sauvignon Blanc has just been released, and it's worth a look for classic lemon-lime essence. Pale gold in the glass, this wine smells of lemon pith and grapefruit. In the mouth, lemon and lime flavors mix with a touch of cut grass and sweet celery. Good acidity and length, with a hint of herbal bitterness in the finish." Around 8.5 Points out of 10 -Alder Yarrow, June 2020
The Press Democrat
"Sauvignon blanc shines with ceviche tostadas"
"2019 Acumen Mountainside Sauvignon Blanc, our Wine of the Week, is bright and shiny, with an engaging depth, layers of fruit flavors, and a lingering finish that is at once plush and clean. On the first sip, you'll notice not-quite-ripe apricot, followed by white grapefruit, clementine, and Comice pear. There are subtle hints of tarragon and raw green bean, too, and just a tiny burst of peach." -Michele Anna Jordan, August 2020
The Colorado Springs Gazette
"Sauvignon Blanc provides refreshing drinking"
"California sauvignon blanc has often been an afterthought with consumers. Not only does it play second fiddle in popularity to chardonnay, it seems there is always a new fave that steals attention – pinot grigio, New Zealand sauvignon blanc – even if only for a limited time. But that may be changing. People who watch these things say consumer interest is ticking up. This is good news as there arguably is more good California sauvignon blanc on the market than ever. Its flavor profile is usually assertively aromatic and refreshing. Expect brisk green citrus (lime, gooseberry), but also lemon, orange, and grapefruit, and a distinctive herbaceousness (sometimes fresh cut hay or grass). Wines made from riper fruit often display stone or tropical fruits. I found several good values around $20. They are focused on varietal character and the grape's trademark racy acidity. Think of them as everyday go-to's. Napa Valley winery but Dry Creek Valley grapes; 67 percent neutral oak, 33 percent stainless steel; piercing citrus, herbs and fresh hay, spicy" -Rich Mauro, October 2020
WARNING: Drinking distilled spirits, beer, coolers, wine and other alcoholic beverages may increase cancer risk, and, during pregnancy, can cause birth defects. For more information go to www.P65Warnings.ca.gov/alcohol.